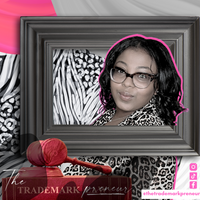 The Go to DIYer for Trademarks
Meet, Shawntia Maria, The Trademarkpreneur, the go to DIYer for trademarks and The Christianpreneur that helps CEOs protect their God given ideas. She is passionate about helping small business owners protect their brand and those who never thought trademarking their brand was a possibility. She is the Founder of Black Girls Trademark™️, The Christianpreneur Network™️, Christianpreneur®️ Lifestyle Brand, and Promise Quest Sisters Inc.,
She has successfully registered 14 of her own Trademarks and has helped over 350 small business owners learn more about the trademark process through educational resources, classes, and workshops.
Subscribe to my youtube channel
Trademark Truth® Virtual Sessions $297.00
If you are a small business owner who wants to trademark your brand, but have limited time this is the session for you. In this session you will learn how to do your own trademark in 60 minutes. Get ready to make ownership a reality!
In this one hour virtual session you will uncover the Trademark Truth®️ and gain real knowledge about trademarks.  It will be a jam packed session teaching you everything you need to know about doing your own trademark. After purchase, individuals will receive a zoom link, The Trademark Truth® Checklist, and the Trademark Truth® Disclaimer form. 
 Here's What You Will Learn during this session!
- What is a Trademark?​
- Why Should you Trademark?​
- The Trademark Process
​- Types of Marks​- Specimens
​- Trademark Application Forms
​- Trademark ID Manual​
- What is a Trademark Search?
​- How to Conduct a Trademark Search
​- In Use vs. Intent to Use Applications​
- Principal vs. Supplemental Register​- Disclaimers
​- Walk Through of a Trademark Application
​- Maintaining & Enforcing Your Trademark
Disclaimer:Shawntia Maria is not an attorney and does not provide legal advice or participate in legal representation. Communication with Shawntia does not constitute legal advice. Shawntia provides general information about the trademark process and is not affiliated with the USPTO and does not guarantee trademark registration. Please seek an attorney for legal advice. 
GET STARTED
ENROLL IN THE DIY TRADEMARK TRUTH® ONLINE COURSE FOR ONLY $97.00
The Trademark Truth® Course is an pre-recorded online training course for small business owners who want to learn more about the trademark process and want to do it themselves. Shawntia goes over how she was able to successful trademark her brand & receive 14 federally trademark registrations. After you leave this training you will feel more comfortable if you decide to do your own trademark application.
ENROLL TODAY
BLACK GIRLS TRADEMARK
Black Girls Trademark is a community for women CEOs who want to build & and protect their brands. BGT offers workshops, courses, consulting, and networking events. Join our Facebook Group for updates on trademarks, business, and entrepreneurship.
JOIN THE COMMUNITY
SHOp THE BLACK GIRLS TRADEMARK COLLECTION
HERE'S WHAT PEOPLE HAVE TO SAY ABOUT SHAWNTIA MARIA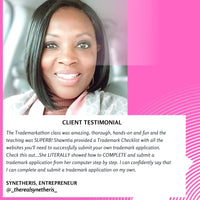 Here's What People Have to Say About The DIY Trademark Truth Course
The Do It Yourself Trademark Truth Course is huge. This course provides an unparalleled transparency into the trademark process, that can otherwise feel daunting and unattainable.

Through this course I was able to save significant time with my brands and money.

As someone who has watched countless Youtube tutorials and done tons of other online research-I highly recommend this course, especially for anyone who is considering protecting their business with a trademark.

The power is now in YOUR hands! This course unlocks it!

-@dranissaferguson

Dr. Anissa Ferguson