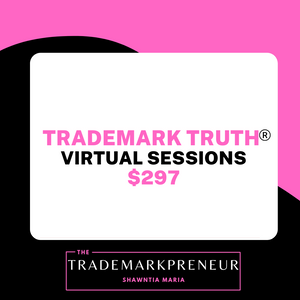 In this one hour virtual session you will uncover the Trademark Truth®️ and gain real knowledge about trademarks.  It will be a jam packed session teaching you everything you need to know about doing your own trademark. After purchase, individuals will receive a zoom link, The Trademark Truth® Checklist, and the Trademark Truth® Disclaimer form. 
 Here's What You Will Learn during this session!
- What is a Trademark?
​- Why Should you Trademark?
​- The Trademark Process
​- Types of Marks
​- Specimens

​- Trademark Application Forms
​- Trademark ID Manual
​- What is a Trademark Search?
​- How to Conduct a Trademark Search
​- In Use vs. Intent to Use Applications
​- Principal vs. Supplemental Register
​- Disclaimers
​- Walk Through of a Trademark Application
​- Maintaining & Enforcing Your Trademark
Disclaimer:
Shawntia Maria is not an attorney and does not provide legal advice or participate in legal representation. Communication with Shawntia does not constitute legal advice. Shawntia provides general information about the trademark process and is not affiliated with the USPTO and does not guarantee trademark registration. Please seek an attorney for legal advice.